We form a vibrant, progressive and experienced R&D team to forge ahead. Inheriting the concept of preciseness, safety and team work, this innovation-oriented team concentrates on the research and localize of high-tech and prospective products applied on 3C electronic consumes, smart home households, medicinal equipments, non-stick cookware, auto-car accessories, financial equipments, railway coach. We are aiming to provide all-around technical support to customers initially from the products designing and researching.
One of the subsidiaries in CM has been approved as HTE by the government. Meanwhile, we also set up 4 R&D centers which located in Japan, Taiwan, Shenzhen and Wuxi. The specialty orientation of our R&D Centers has attracted a lot of excellent technical engineers comes from different fields such as chemical technology, high polymer material technology, electronic information, etc, among which there are many Doctors, advanced chemists, color designers and experts from Japan .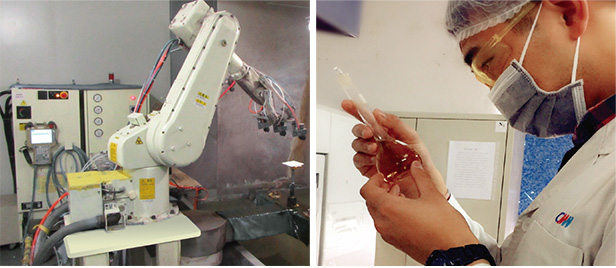 To make sure everything goes smoothly, we established and successfully passed the ISO9001. TS16949, ISO14001 and QC080000 systems certificating. Also in additional, we installed various equipments to support R&D work like:
■ Installed advanced analyzer to analyze components Hazardous Substances, such as Gas Chromatograph, GC-MS Gas Chromatography-Mass Spectrometer, infrared spectrometric analyzer, Inductively Coupled Plasma (ICP-OES) Optical Emission Spectrometer, Ultraviolet Spectrophotometer, Microwave Accelerated Reaction System, Karl Fischer Moisture Titrator.
■ Installed Thermal Shock Chamber, Constant Temperature Humidity Cabinet, Q-UV Accelerated Aging Test Chamber SUNTEST Xenon Lamp Aging Test Chamber, Salt Spray Test Chamber to test Environment Reliability
■ Installed and equipped with X-Rite Colour Master, Haze-Gloss Refletometer, Metallographic Microscope, RCA Abrasion Tester, IR Diode Pump Laser as well as three one-million dust-free spray room equipped with auto-spray robot and chain oven to make sure the new developed products can be adapted different environment.
We are aiming to be a market leader of industrial paint in terms of technology and management and till now, we have already successfully gotten 5 utility patents and have 15 utility patents under applying. Also, we have 9 approved high-tech products and published several thesis.