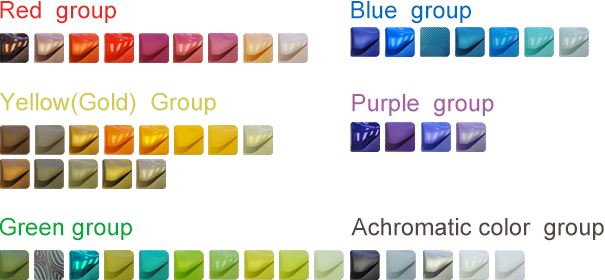 1 .Velvety Revolt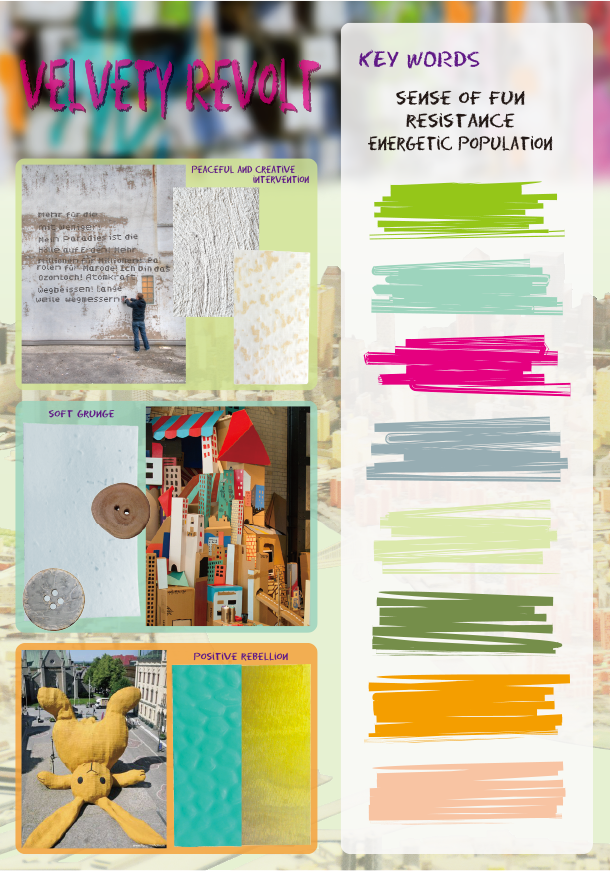 Decoding:


"Velvety Revolt" is a sweet and sour mood theme that attracts us to naturally generated creative group behavior and to "protest" in a sense of fun or poetry.
Emerging lifestyle:


In the event of an environmental disasters or nuclear accidents, these operations no longer affect a single country. These issue redefine the concept of "Ethical/Eco" that has been alluded to as morality.
Today cutting edge technology spreads information in a blink of an eye. It allows people to take action instantly in world-wide environmental protest.
Peaceful and creative demonstrations by variety of sociologic group occur all over the world. This kind of action may happen in earth-shattering ways beyond our imagination. Movement actions typified as "Flash mob" or "Nude revolution" as anti一gender discrimination, or anti-male-centered thought, can be calm and sincere protests.
In any case, many of the sociologic group' s energetic awareness campaigns are carried out peacefully and playful. It' s a promise between these groups and society to build up a bright future, not only rebellious, but sometimes entertaining as well.
Key words:


Sense of Fun/Resistance/Energetic Population.
Target:


The generation who acclaim interactive world and sense of fun.
The sensitive to ethical issues/sympathize with population.
Colour concept:


Bright and clear color that represents humor and positive, rebellious spirit. Extra impact of familiarity with the soft grunge imaged colors.
2.Equilbrium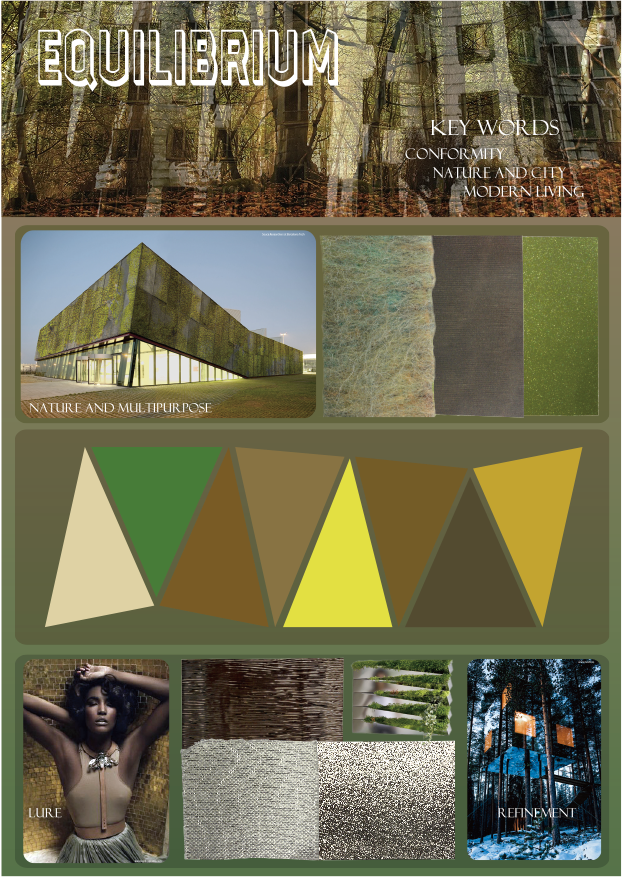 Decoding:


The definition of "Happiness" became ironical. A New "Smart way of living" is emerging by slow degrees. This theme generates a healthy, macro operation by combining authentic, modern and natural elements.
Emerging lifestyle:


With the global growth of various individual device possessions, continuous access on Internet is our ordinary mode of life at the present. Never-ending information accelerates our social life faster and faster. According to the survey, 45% of individuals between 25 to 75 years old answered they feel they are always rushing and thinking of saving time.
"SLOW" trend or the soothing popularity of nature allows freedom from a life of consistent compulsion, like Internet addiction. We now know it' s one of our choices, however , it' s also true that it doesn't match the urban lifestyle.
In our society, we cannot deny that technology control and affects every individual aspect of life. However we still control our individual choices-一That is to say it' s possible to balance two elements in harmony. What is needed is to rebuild our life rhythm with changing needs. In other words, it is adjusting the fascinating feel of urban life and the desire to return to nature.
Though involved in stimulated Internet life, get some time "AWAY".The strong impact that exciting urban modern life has is balanced by gaining calm quiet time as well. "Life priorities" and combining elements that have never been blended generates a feeling of happiness and gentleness.
Key words:


Conform ity/Nature and City/Modern Living.
Target:


Consumer who hopes to be heald away from the Internet at temporarily.
The person who finding new value and ecology.
Colour concept:


Gold or brown color to add the elegance to the natural taste. Bronzy color expresses the sophisticated mood.
3.Enigmatic Exaltation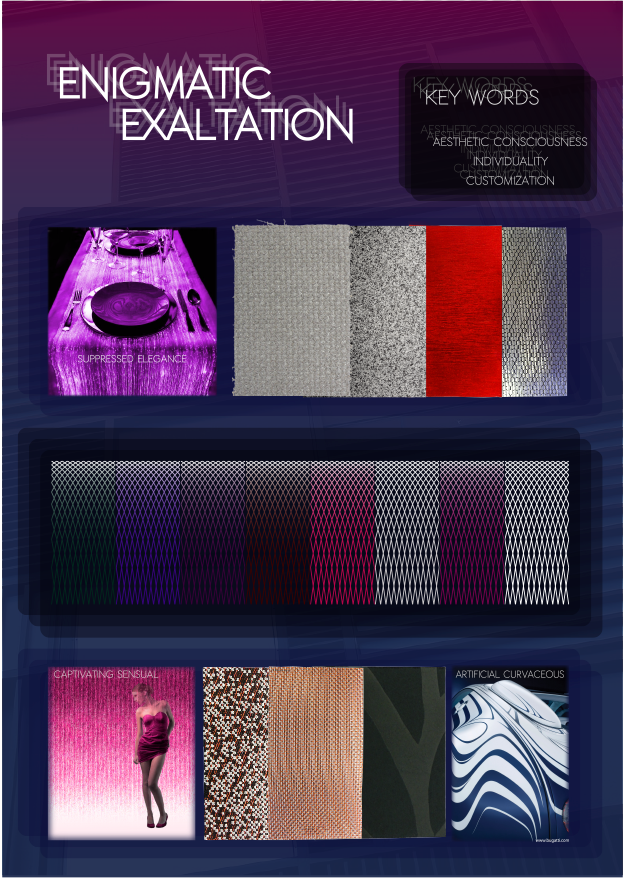 Decoding:


Being hit by the world economy recession, luxury market is seeking for a new rule between minimalism and high一end tastes. In this theme, we suggest the unusual combination of rough, crude sense, sexiness and restrained mood.
Emerging lifestyle:


Thanks to the cutting edge technology, the possibility of creation has greatly broadened. It has dramatically changed the standard of aesthetics. The innovation of new applications, tools and materials are expanding the past limitations in art, architectural design and the fashion world.
Beautiful curved shaped buildings against gravitational forces, perfect ergonomic design, precisely patterned clothing at micro levels by body scanning … we' ve erupted into the super adaptation era. The consumer product revolution has already started. It is studied in depth, not just superficially "Customize" . Nowadays, products should adjust to consumers providing "Only for myself" products. An expression of "Luxury" -----this sort of tendency meets the strong consumer need, for "Individuality" .
In years to come, the focus will be the joy of "touchy-feely" when using products."Luxury" style is about to broaden. The key is to produce "Fascinating" products at every point, which support each individual life or self-expression with customized products,simulating beauty or comfort-----new.
Key words:


Sense of Fun/Resistance/Energetic Population.
Target:


Senior age who are finding new role/tether.
  New method to suggest for high-end.
Colour concept:


Expresses the ergonomic-feel color. Describes the calculated world-view with artificial colors.
4.Exuberance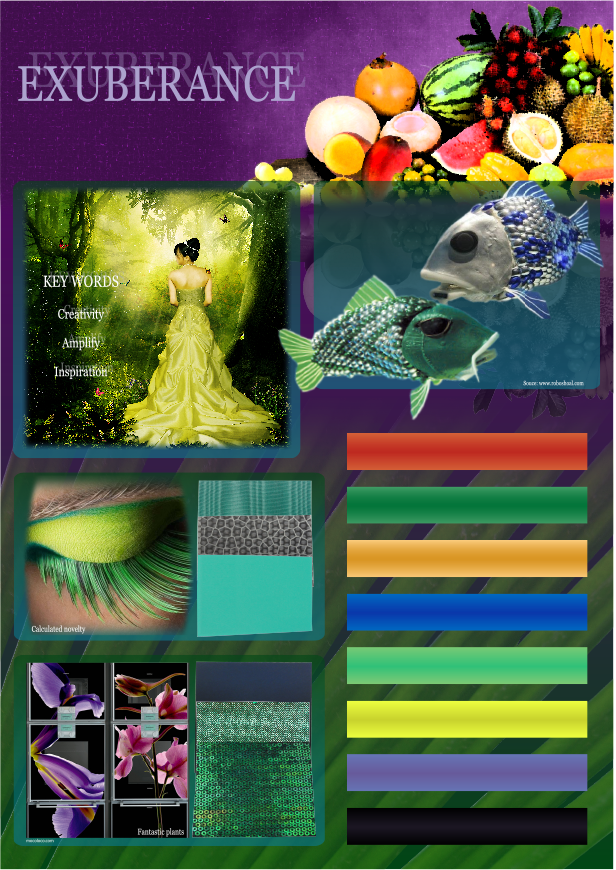 Decoding:


Purpose, practicality, concrete and conventional wisdom gets (tossed) out the window…EXUBERANCE is a theme to expand the imagination and stretching the allusion of width focusing on only the honest happiness.
Emerging lifestyle:


Blogs, sharing pictures, and exchanging ideas … It' s not too much to say that Internet has enable everyone to equally express themselves and articulate creativity. Just as the common individual reserve the function to send out and amplify the possibility of creativity worldwide.
For example, companies are dramatically increasing the use of internet polling to create marketing inspirations. Thus, lately, they sometimes get idea from hacking as well.Hackers used to be our common enemy; however, their resourcefulness may be a key factor for future reativity.
Based on scientific and technological progress, the concept of innovation has been evolutionary. In fact, it is regarded as "Creativity" . According to the survey of IBM in 2010,1500 of world top executives raise "Creativity" as the most important qualification of a leader.Like with the seed of "Creativity" planted and nourished, the original ideas will blossom.
The evolution of creativeness is as unpredictable as nature' s growth of a forest. From individuals to companies, creativity releases our boring rational thinking to inspire and flourish our minds, just as uncontrollable as growth in nature is to humans.
Key words:


Creativity / Amplify / Inspiration.
Target:


Consumers who feel the boring day-to-day, trying to emancipate the mind in creativity.   New method to suggest for high-end.
Colour concept:


Tropical and outstanding colors let us feel the sense of fantasy.
5.Folklore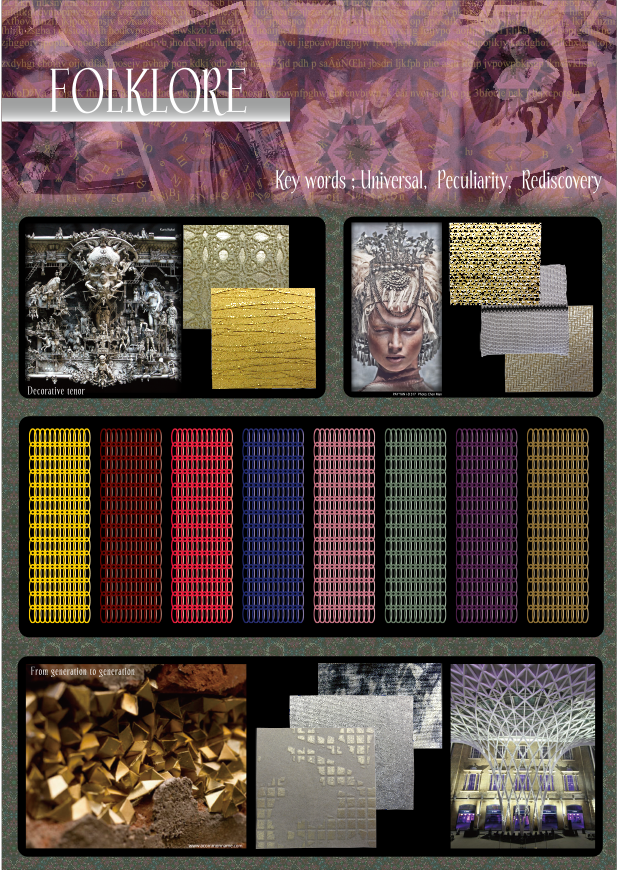 Decoding:


Legends (Traditions) are renovated by the variety of multi-cultural generational stories.In this theme, we translate the mass culture heritage in modern way and excavate for the features of the buried past.
Emerging lifestyle:


Nowadays, culture is globally/uniformly continuously updating. Many attempts are being made in a variety of fields to rediscover the uniqueness or know-how of each local culture.
In Europe, each generation thinks they want to know their individual/family history.Thus 61% of people work on family genealogy. The developments of the open data movement and easy public access to the government' s document/ancestry records have increased the number of people researching their roots.
In each area, there is a popular movement in the young generation to rediscover their ancestor' s livelihood or old traditions and embracing them into their life. By mixing diverse folklores and traditional stories, and wealth of historical icons, new traditions are about to be created.
Key words:


Universal / Peculiarity / Rediscovery.
Target:


Senior generation be reminiscent of the past.
Young people who want to know the roots of their own..
Colour concept:


Colors emphasizing the ethnical, universal aspect; constructs the vintage elements dynamically.
Lee Bul www-stg.lehmannmaupin.com
6.Optimistic Coexistence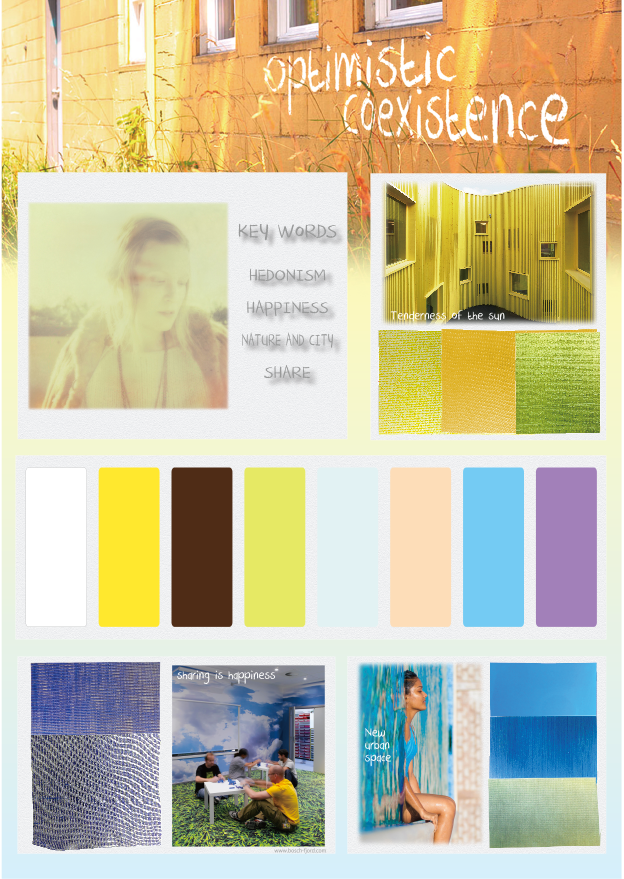 Decoding:


Precious moments to share with friends and lovers, this theme tell us the way to enjoy pleasurable daily life. It's an expression of simple optimistic happiness between nature and industry.
Emerging lifestyle:


Economic models supported by selfish excessive consumption have collapsed and the time has come for the world to change. Common consumption based on human-to-human reliability is about to broaden among Generation G. (G=Generosity) The G Generation no longer equates social satisfaction to just physical wealth. Their changing life-style "To Share" is a sense of responsibility and gratification.
Behind this new emerging economy is the thought of "Release from goods" . This thought teaches trust in each other, break the traditional institution and let-us "rebuild the future." The survey shows the young in each country (India:91%, America:81%, China:73% Fondapul 2011) that answered are confident in their bright future. In fact,increasing numbers of people are making a strong effort to rebuild society, with the belief that they can change the world with cooperation.
This phenomenon occurring in Japan, Brazil and Korea raise "Being Happy" as the fundamental human rights. This new scale to measure GNH (Gross National Happiness) is emerging continuously. "The Cool way of living" over the next years would be to enjoy every moment in optimism and pleasant euphoria.
Key words:


Hedonism / Happiness / Nature and City / Share.
Target:


Generation with a high sense of want to change the world "share" by.
  Consumers seeking feeling refreshed and feeling happy-go-lucky bright.
  People who feel disgust for the sense of stagnation and anxiety.
Colour concept:


Shiny sun-light-like color expresses the bright, optimistic mood. It is the motif of blessed sun, warmth, tenderness and water moisture.