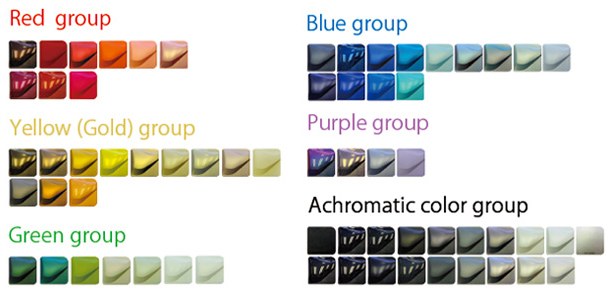 1.Neo Standard
Luminous/ Nonmaterial/ Transparency/ Floating/ Fluidity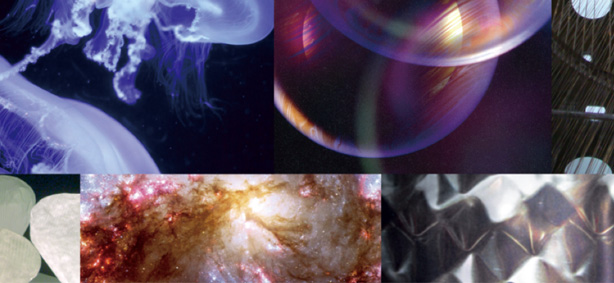 Background of Theme


Nonmaterial expression composed of the elements like light, water, and smoke.
The design with irregular flickers of light brings the feelings of newness and comfort to the everyday life.
A natural but high-tech expression creates the next-generation standard of design sector.
Colors


A lineup of colorless colors with image of nonmaterial elements like air and water.
Colors of feeling of floating, composed of reflection and tremor of lights.
Whites and Blues stay as base, a showcase of standard but lyrical colors.
Simple shades encourage the presence and edgy feeling which is actualized on the high-end models.
Consumer Trends


Current high-end models of high-spec and multi-function are widely received in the market among men and women of all ages, and also cover the business use category.
The feeling of stylishness combined with natural taste is compatible with high-end models, promising for a future standard of designs.
Texture and Look


-Feeling of floating composed of transparency and subtle luminescence.
-Feeling of fluidity composed of strong light reflection and high-gloss delivered by PVD coating.
-Transparent tremor like flicker, effected by moiré, transparent materials, and interference pearl pigments.
-Subtle gloss on light, pale tones brought by matte top-coat.
2.Strange
Bizarre/ Life Energy/ Radical/ Fascination/ Eccentric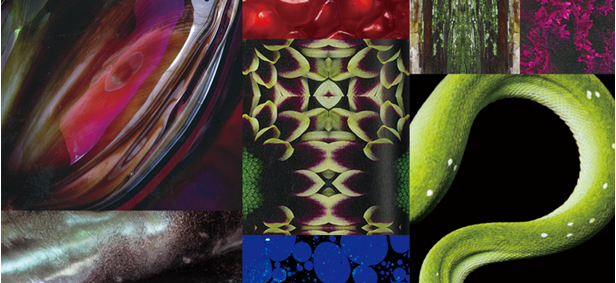 Background of Theme


A theme of bizarre and mystic power of life energy.
An expression inspired by virulence and alluring mode of life.
Cutting-edge, eccentric expression which sets off the users' creative mind.
Colors


Extremely lively expression with vivid, primary, and strong shades.
The interactive contrasts created by the combination of strong colors like Red, Green, Fluorescent colors actualize the edgy expression of boldness and life force and gaudiness.
Consumer Trends


The product of distinguished character expresses its strong presence in the market where is currently full of products of much the same performance.
A standout, cutting-edge expression targets the consumer range which has self-confident on their own creativity and strong individuality.
An expression suitable for the impactful designs with advanced functionality.
Texture and Look


-Unprecedented colors and textures that uses new technology of Cashew.
-Organic life force expressed by a strong interference brought by the effect pigment.
-Expression that suppresses gross delivered by slightly frosted effect on glossy surface.
-Organic texture like snake skin.
3.Second Skin
Mineral/ Inorganic/ Skin/ Corrosion/ Natural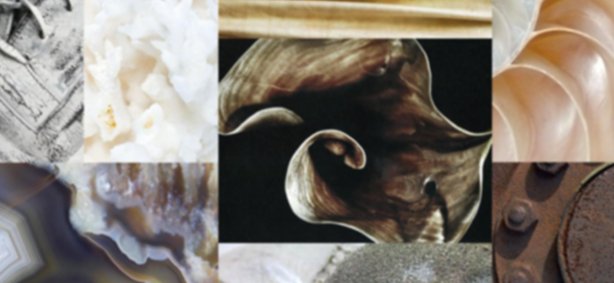 Background of Theme


A theme of rich texture like mineral skin.
Natural, beautiful, and texture that we want to touch.
Rusty, corroded surface brings evolving next-coming texture.
An expression that touches fragility and dynamism of the nature.
Colors


A lineup of natural, calm color associated with minerals.
An expression of soil and minerals from the earth.
White color associated with shells and bones.
Consumer Trends


Targeting the consumer range which has been sick of conventional mass-production like appliances, seeking for provocative new expression of artsiness.
The texture of natural, beautiful and back-to-nature feeling can be linked with the newly developed trend values.
An interpretation for the product of unique style and originality.
Texture and Look


-Strongly hand-feel conscious, delicate texture.
-Quiet gloss weathered and polished naturally.
-Pleasantly textured mineral-like harsh hand feel.
4.Gold Roots
Ethnic/ Primitive/ Tradition and Innovation/ Nostalgia/ Long-used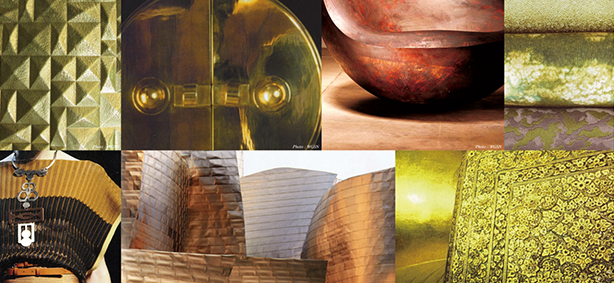 Background of Theme


A theme of nostalgic retrospective for gold.
An expression of piles of diverse values of gold combined with modern viewpoint.
An emotional user is attracted.
An aesthetic of craftsmanship, humble but absolute attractiveness like art works.
Colors


A lineup of gold with various aspects of shades.
Nuanced gold with pink, yellow, and orange, or deep shades like oxidized, tarnished, and antique look.
Hand-craft, lacquer ware like deep shades enhance the charm of gold.
Consumer Trends


A clear departure from the conventional mass-production like appliances, see a newly emerging demand seeks for the expression of essential beauty and craftsmanship.
Gold, the symbol of wealth and fortune since old time, has been symbolized as authentic beauty classic, and ethnicity, also used for today' s design works.
Variety of expression of gold embodies the diversified needs and values of gold.
Texture and Look


-Smoky, metallic surface.
-Gentle shades of gold with muted reflection.
-Feeling of depth both shade and gloss, just like lacquer wares.
5.Eco-pop
Recycle Art/ Ecology/ Compilation/ Cheap/ Fun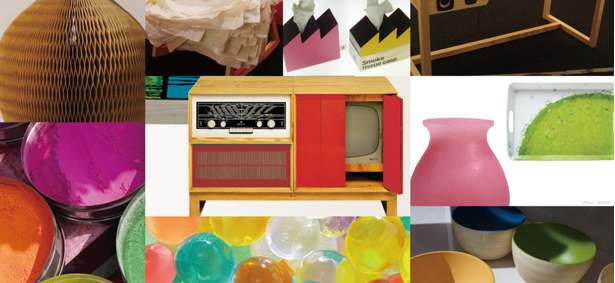 Background of Theme


A theme of eco spirit with full of fun and playfulness.
Cheap and lively styles inspired by recycle art.
Like a compilation of waste plastics, recycled papers, and wood materials.
Fun and charming, a fresh angle of eco consciousness.
Colors


Playful colors like recycle art, or compilation of favorite things.
A relaxed interpretation with eco-taste materials of bright and clear pastel colors, popping vivid primary colors,and gentle wood beige like wooden toys.
Consumer Trends


Eco spirit based activities at the corporate level greatly influences the consumer trend in the market.
While consumer behavior and eco spirit strengthen the ties each other, see a growing number of groups which act eco by own idea in the market.
Although it used to have only image of serious and fussy, now suggests the eco for the new era which carries an expression of ease and happy.
Texture and Look


-Cheap and familiar like plastic toys. -Expression from the paper and wood materials. -Highly-matte, it is new vivid colors.
6. Elegant Casual
Pastel Colors/ Female/ Trend/ Powdery/ Gloss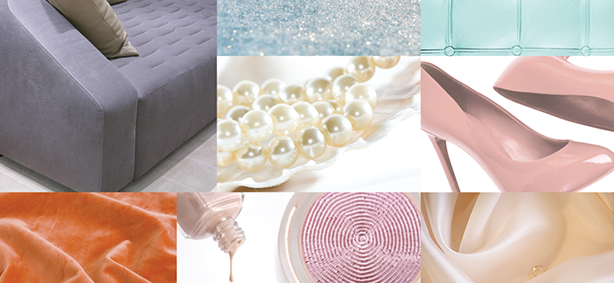 Background of Theme


A theme for women who express both urban taste and friendly cuteness.
A trendy style of basic, feminine taste composed of nobility carried by enamel and silk, and friendly cuteness.
Colors


A lineup of colors strongly conscious of women-targeting-trend.
Colors of glitter.
Powdery pastels that is the trend.
Expressed by pale tones of silky taste.
Consumer Trends


While the values of high-trend and luxury fashion become a tendency to casual in the market, see a growing trend among trend-conscious women who enjoy relaxed way to adopt the high-end taste into their everyday life. Apart from the attachment to the upmarket, an expression for the women-targeting product of casual and friendly taste.
Texture and Look


-Trendy interpretation with matte, pile, powdery effect.
-Glittering look created by metallic flakes.
-Enamel-feeling gloss of pearl effect, associated with fashion items.
7.Individual Presence
Everyday Life/ Tranquility/ Well-ordered/ Individualism/ Basic

Background of Theme


A theme of simple, plain, basic sense of beauty.
A pleasant feeling just like carrying everyday life covered by only favorite things combined with a feeling of well-ordered beauty.
A practical style covers both personal and business occasions.
Colors


Shades of quiet and plain expression loved by everybody.
A composed lineup of unisex Reddish shades combined with a group of Blue-centered tranquil shades.
A basic interpretation of calm color variation with metallic are well received by men.
Consumer Trends


While evolving business-use targeting products express the feeling of status or high-class, see the other growing category of relaxed friendly taste products which also cover the business occasion as it is one of the extension of everyday life.
A practical style expresses the individuality and feeling of human life without barrier between on and off.
An expression for the product based on the standard values.
Texture and Look


-Useing matte top-coat on high reflective metallic.
-Faded, well-used shades like Denim Blues.
-Feel of cardboard.
8.Dark Sensual
High-Tech/ Elaborateness/ Elation/ Delicacy/ Business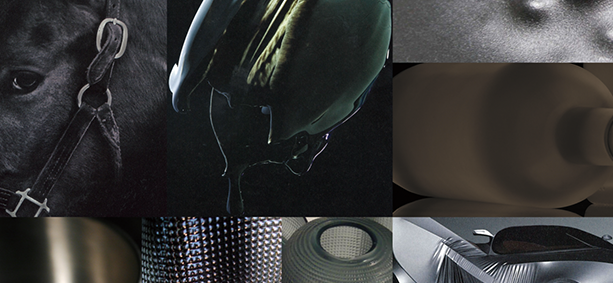 Background of Theme


A theme of variously evolving Blacks.
Extreme sophistication and elation based on muted achromatic shades which form a fascination created by delicacy and elaborateness.
An advanced expression of Blacks captivates the businessmen.
Colors


A leading-edge variation of Blacks with sophistication and elation.
Smoky shades like frosted glass, gold-nuanced black.
A variation of elaborate and delicate blackish colors are suitable for high-end models.
Consumer Trends


In the trend of expansion of quality of business-use targeting products, see a growing demand for the expression of leading-edge and intelligence actualized on high-end models, in addition to the existing desire for feeling of status and high-class.
Black is the color of standard.
The growing demand requires the new black which should actualize the keywords of the trend.
Texture and Look


-Fascinations expression of Blacks, combined with cutting-edge, texture molded parts.
-Ultra-gloss created by piano-black paint.
-Textured feel with frosty impression.