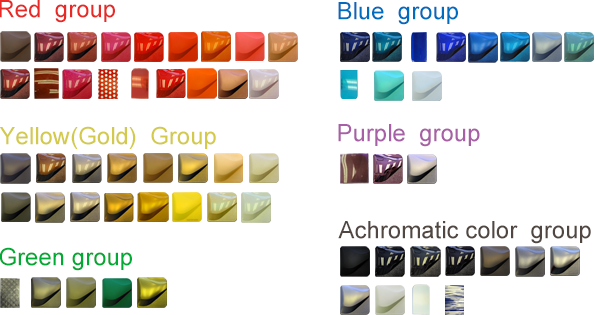 1.Urban Poetry


Fluorescent Hues with powdery surfaces. It reminds you of cosmetic products and the colors are feminine. Our targets here are young women.

EFFECTIVE SURFACES

FRAGMENTED GLINTS AND COLORS

Unlike mettalic surfaces that would shine evenly, the holographic and tranceparency effects might help achieve watery or liquid aspects.
HOLOGRAPHIC STRUCTURE

Having geometric forms on the molded plastics will make unique effects even if the painting itself may be simple.

DISTORTION IN TRANSPARENCY

Instead of having transparent surfaces, distorting the molded plastics can create fascinating effects, like diffused reflection of the light.

SECOND COLOR RANGE

Compared to the feminine colors presented just before, the second color range shows graphics and sporty aspects which could be suitable for males. Simple and brief is the theme of our second colors.

EFFECTIVE SURFACES

MAT & MICRO STRUCTURE SURFACES

Using geometric effects like dots, squares, and stripes would bring out interesting designs in this color range.

MAT & SHINY

It would be a good idea to combine matte and shiny colors for this theme.

MAT & RAISED SURFACES

Simple matte colors on raised surfaces appear like silicon.
2.Universal Language



EFFECTIVE SURFACES

BRUSHED EFFECTS

Red is painted as hair lines which we brushed roughly to express impulsive images.

IRREGULAR METALLIC SURFACES

Metallic Red were applied as if the paint was spilled over.

LACQUERED SURFACES

Lacquered red can be expressed vividly if it is painted on the round shaped products.

SECOND COLOR RANGE

The second color range allows us to explore blue.
We created dark and turquoise blue with silverish tints. Developing different textures might spice up these blue colors.

EFFECTIVE SURFACES

LIKE 'ENAMEL' & PORCELAIN

We created the glossy enemel blue like porcelains and they are thougt to be very sensitive colors.

WATER-COLORED EFFECTS

Wrinkled and metallic appearances or dilute water color paintings can be effective. Irregularities on the surfaces will be unique.

BLUISH MIRRORS

Mirror like conditions are refreshing and impressive in this blue range.
3.Past Future


the kind of color which can be used as long as it lasts.

EFFECTIVE SURFACES

WORN METALLIC SURFACES

Arranged worn-out effects on the metallic surfaces.

CHROME LIKE SHINE

Slight scratch on the polished surfacesmake the effect of a chrome touch.

TWO-TONE WEAR & TEAR

Showing another color by peeling off efects, is good to express worn-out appearance.

SECOND COLOR RANGE

In the second color range, we focus on camel and beige which symbolize classic high quality. Artificial looking yellow colors can become a bright accent in this color harmony.

EFFECTIVE SURFACES
SOPHISTICATED RECYCLED PAPER EFFECT

Recycled paper appearance might provide calmness to us, but it should not look cheap. We complete the surface with sophisticated tone and, it matches the concept of Eco-luxury.

MILKY OPALESCENCE

Opaque in transparent colors might produce silicon touch.

SKIN HAND & APPEARANCE

Leather touch is also important in this theme.
4.Escapism


This theme features chrome glints and dark shines. They are not flashy but the coppery glints are radiants.

LIKE IRIDESCENT SKIN

Reminds you of human skin. It is very sensual.

LIKE PHOSPHORESCENT SKIN

Reminds you of human skin. It is very sensual.

SECOND COLOR RANGE

The second color range presents colors which you can find in the natural environment.
Combining reflecting materials like a mirror and lustrous colors can invite you into another world.

EFFECTIVE SURFACES

WET & LIQUID SURFACES EFFECTS

Here we have the color samples capturing liquid and moistured appearances. It is like viewing the mysterious world.

MOIRE SURFACES

Moire Fabrics effect and distored visual effect do play visual trick.

FRAGMENTED MIRRORS

Mirror effects provide strange shines. Kaleidoscopic desings are also utilized here.